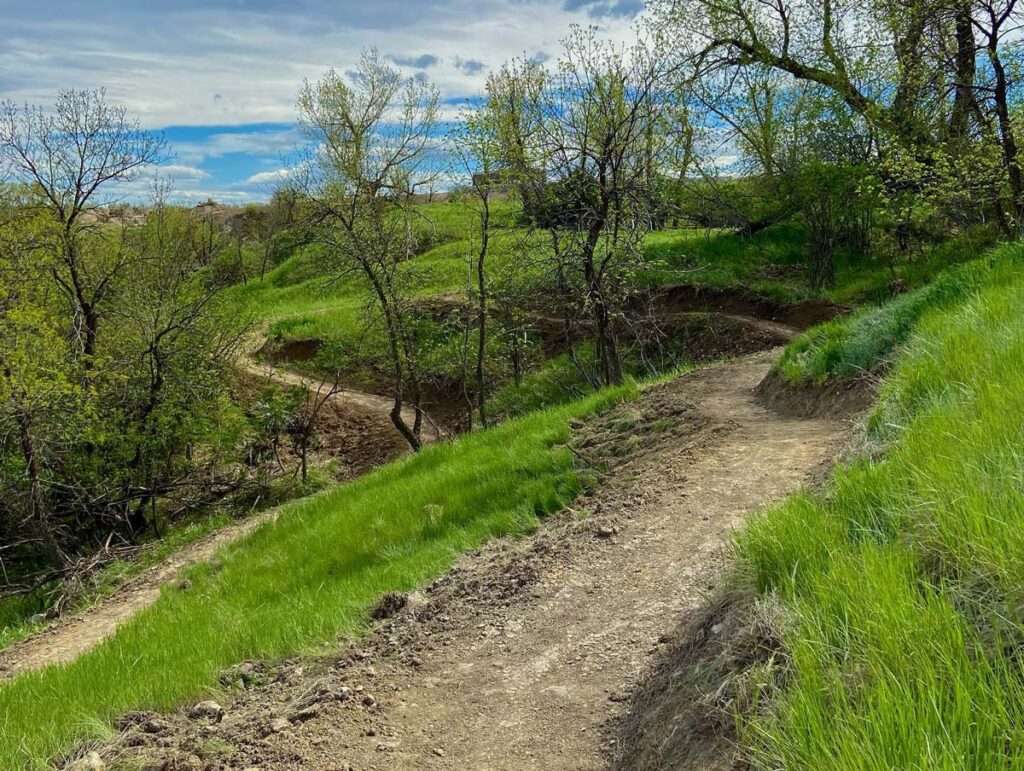 An easily accessed trail from a great City of Sheridan park. The Green Room Trail is a loop around the Malcolm Wallop Park. Thought designed to be accessible to beginner mountain bikers, hikers looks for a gentle route, or runners looks for fun rollers; the trail is a fun for all abilities. The trail provides sweeping views of the Park and travels for part of its length along Goose Creek.
General Rules: Open daily from 6:30 a.m. to 10 p.m. No motorized vehicles. Pets must be leashed at all times on the trail and inside park boundaries. Pet waste must be cleaned up and removed. All posted City of Sheridan park rules apply.
Directions from Sheridan: Follow North Main St. to north edge of town. Trail is located within Malcolm Wallop Park, north and west of Goose Creek. Turn west onto Real Bird Way. Continue to parking lot on south side of road. Trail is accessible from Sheridan Pathways (paved paths) in either direction. You can see trail and parking lot from North Main St.
Directions from I-90: Take Exit 20 south towards Sheridan. After about 0.6 miles, turn west onto Real Bird Way. Continue to parking lot.
Why Community Trails Matter
We work to create Now, more than ever, access to the outdoors is essential to our physical and mental health. SCLT's growing network of community are visited more than 20,000 times each year, in part, because they make going from your front door to the outdoors easier than before in Sheridan County.
Why are these trails so important?
Below, is a video made by Hesid Brandow and Kevin Knapp about why the Tongue River Water Trail matters so much to their family. Calling the Tongue River Valley an "incredible community treasure," Hesid says the water trail has spurred interest in the streams through Sheridan. "In our decade living here,we have watched as the area has been cleaned up. Our family benefits daily from the well-maintained creek bank and we are constantly reminded of just how fortunate we are to live in a community with a land trust!"