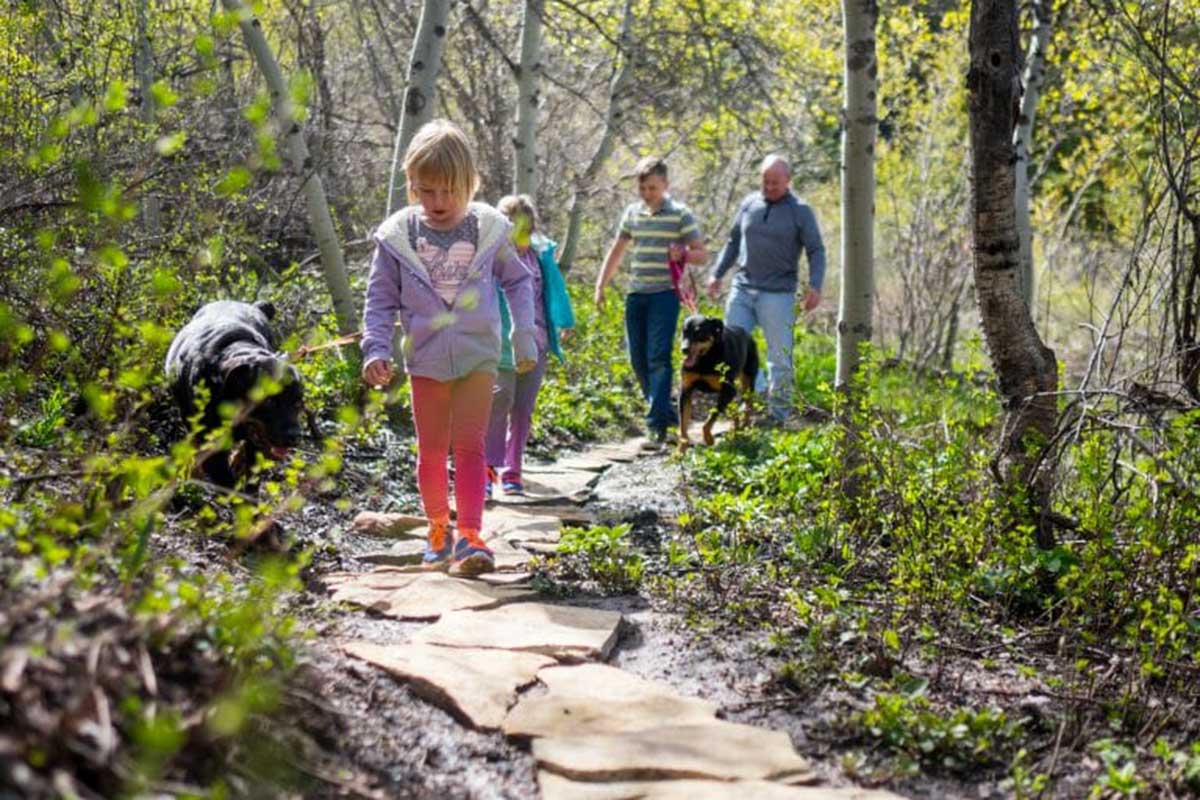 Red Grade Trail System is a looping, non-motorized, year-round hiking and biking trail system located on State, Bureau of Land Management (BLM), and Bighorn National Forest land. More than 17 miles are accessible from 5 trailheads between The Base and Bear Gulch. Some trails are open to equestrians. The trail system is funded entirely by grants and private donations to Sheridan Community Land Trust.
Red Grade Trails start at approximately 7,800 feet and with more than 17 miles open. Trails are generally easy to moderate difficulty. As you go, you will wind through mixed conifer and aspen forest along the drainage of a year-round flowing stream, switch-back across an open bluff with exposed rock outcropping, sweep down into a prairie grass meadow, and climb up a steep gully to fantastic vistas. The trail offers stretches of shade in the warmer months, and on clear nights it allows spectacular views out along the face of the Bighorns, deep into the Cloud Peak Wilderness, and the valley below.
Five trailheads with parking lots are open, giving visitors the ability to choose their own adventure as they explore our beautiful Bighorns backyard.
Dogs are welcome throughout and horses welcome for portions of the currently constructed trails. Additional trails for equestrian, biking, and hiking trails in the vicinity are underway.
Directions
From Sheridan, travel south on Highway 335 for roughly 10 miles from the intersection of Brundage Lane and Coffeen Avenue. The last half mile is a well-maintained gravel road. Winter: 4-wheel drive generally required.
Why Community Trails Matter
We work to create Now, more than ever, access to the outdoors is essential to our physical and mental health. SCLT's growing network of community are visited more than 20,000 times each year, in part, because they make going from your front door to the outdoors easier than before in Sheridan County.
Why are these trails so important?
Below, is a video made by Hesid Brandow and Kevin Knapp about why the Tongue River Water Trail matters so much to their family. Calling the Tongue River Valley an "incredible community treasure," Hesid says the water trail has spurred interest in the streams through Sheridan. "In our decade living here,we have watched as the area has been cleaned up. Our family benefits daily from the well-maintained creek bank and we are constantly reminded of just how fortunate we are to live in a community with a land trust!"