Our History
Sheridan Community Land Trust is a local organization that serves the communities of Sheridan County. Sheridan Community Land Trust was founded as a 501(c)3 organization in 2006 as a solution to concerns community members expressed through a regional community assessment conducted by Sheridan County and the City of Sheridan. Citizens were asked to identify the County's major problems and challenges, its strengths and assets, and what projects they would like to see completed in 5, 10 and 20 years. The results of that assessment illustrated that community members placed a high value on land conservation, including preservation of working ranches, historic preservation, and access to recreation opportunities. SCLT's mission seeks to address the concerns of the communities we serve.
Since its creation, SCLT has benefitted from strong leadership from its Board of Directors. In
2006 SCLT hired Dave Paullin as the part-time interim Executive Director. Dave brought 30
years of U.S. Fish and Wildlife experience to the position, as well as a vast knowledge about
conservation easements. Under Dave's guidance, the Board of Directors forged ahead on a
number of potential projects, two of which resulted in easements being donated to SCLT.
Volunteers of America was the first to donate a conservation easement, which is now held by
SCLT on a portion of their WYSTAR property bordering Little Goose Creek. The next
milestone was achieved with Sheridan Heritage Inc., which resulted in Wyoming's very first
Historic Preservation Easement, which preserves the historic qualities of the Sheridan Inn.
Since its inception, SCLT has successfully initiated and completed projects that accomplish goals identified by Sheridan County communities, our target populations. We are a community-supported land trust that works with willing landowners to hold conservation easements on private land, develop and enhance recreational opportunities, and preserve local history, while engaging the next generation as stewards of these valuable resources. We are the only entity doing this specific work in Sheridan County.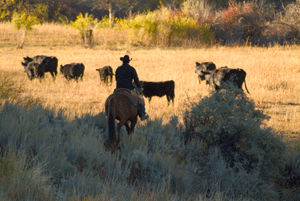 ---