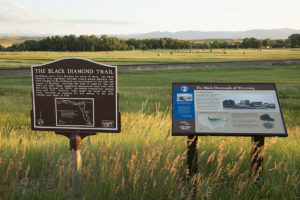 Black Diamond Trail Guided Tour
The Black Diamond Trail will take you through the physical remnants of the once vibrant mining communities of Dietz, Acme, Carneyville (later called Kleenburn), Monarch and Kooi and more evidence of the past coal mining booms of Sheridan County.
TravelStory GPS App – Black Diamond Byway Trail – driving tour
Tour the Black Diamond Trail and learn about Sheridan County's mining heritage. The 45 minute audio tour tells the story of those who lived and worked in the historic coal mining towns just north of Sheridan during the early 20th century. Download the free "TravelStorysGPS" app on iPhone or Android to experience the rich history of this area as the app navigates you to the sights and stories along the Black Diamond Trail.
The tour features narration by Senator Dave Kinskey and guides travelers with directional cues, making it easier to locate historic sites and focus on the voices of the past while you drive.
How to take the TravelStorys GPS driving tour
1) Go to the AppStore (iPhone) or GooglePlay (Android) and search for the "TravelStorysGPS" app.
2) Download and open the "TravelStorysGPS" app with your phone.
3) Search for the Black Diamond Byway tour by either location or name.
4) Open the Black Diamond Byway tour.
5) You can start the tour from the Sheridan County Travel and Tourism Office in Sheridan or from anywhere in Ranchester.
OR take the TravelStorys Tour remotely via your computer.
Can't make the drive? Take the tour from the comfort of home or
Schedule a virtual tour for your community group.
Questions? Or to schedule a tour.
Contact Us Today: