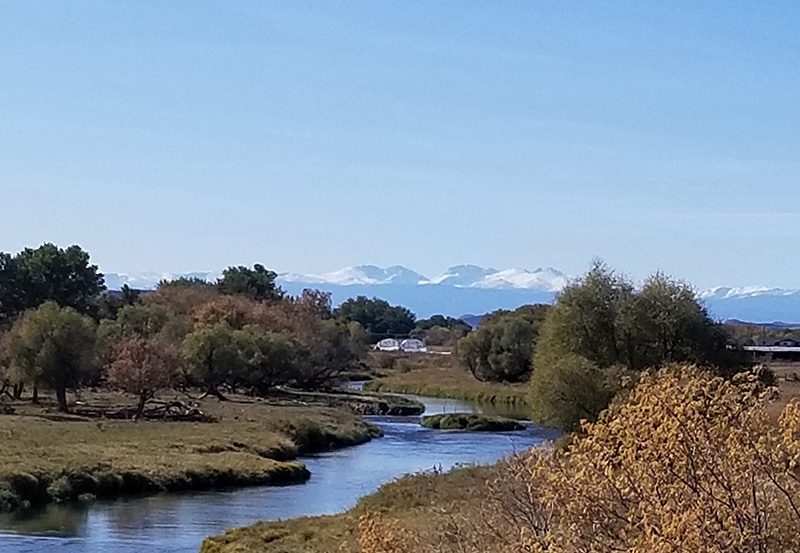 2M Farms Conserves Agriculture and Wildlife on Clear Creek.
In 2021, Mike Mitzel conserved the 420-acre 2M Farms in eastern Sheridan County.
"It had always been my dream to own and operate an agricultural operation and when the opportunity came to purchase the family ranch I had to find a way to make it happen."
Mike Mitzel's dream is a dream shared by so many people in the Mountain West. Take a patch of land, and through good stewardship, a little luck, and a lot of sweat, create a slice of paradise that can raise a family.
But for many, that dream is disappearing. Rising costs, tightening margins and a future that is anything but certain make keeping the family ranch in the family as challenging as it has ever been.
To make his dream a reality, Mike partnered with Sheridan Community Land Trust (SCLT) to establish the 2M Farms Conservation Easement. The voluntary conservation easement agreement creates the certainty Mike needs to run the ranch today and ensures his children will be able to run the ranch with their children tomorrow.
FEEDING OUR COMMUNITY AND FUELING OUR ECONOMY
2M Farms is the dictionary definition of a family ranch. It sits on 420 acres near the town of Leiter in eastern Sheridan County. About 240 acres are irrigated, with the rest a mix of sagebrush and grassland. Clear Creek flows for about two miles through the property.
"Historically, the property has been utilized to primarily produce hay and winter cattle," Mike explained. Today, Mike feeds about 140 cows year-round. "I use a rotational grazing system to graze the cattle for eight months of the year and produce hay on a portion of the land to feed the cattle for the remaining four months of the year."
Each March and April, those cows birth calves. Those calves are weaned in September and sold in October. Seven acres of garden and three greenhouses produce specialty crops to supplement the ranch income.
Three generations of Mitzels live on the ranch. His parents purchased the property in 1999. In 2015, Mike bought the ranch and equipment from them.
"As I began operating the ranch, I started to realize that this land is only mine for a certain period of time and I needed to be a good steward of the land. Making it a more productive and sustainable operation for now and future generations became increasingly important to me," he explained.
However, to realize his dream of having a productive, sustainable ranch that the Mitzel family could call home for generations to come, Mike knew he'd need to make it as easy as possible for his children to succeed him.
"I saw a conservation easement as an integral tool to help make that a reality," he reasoned.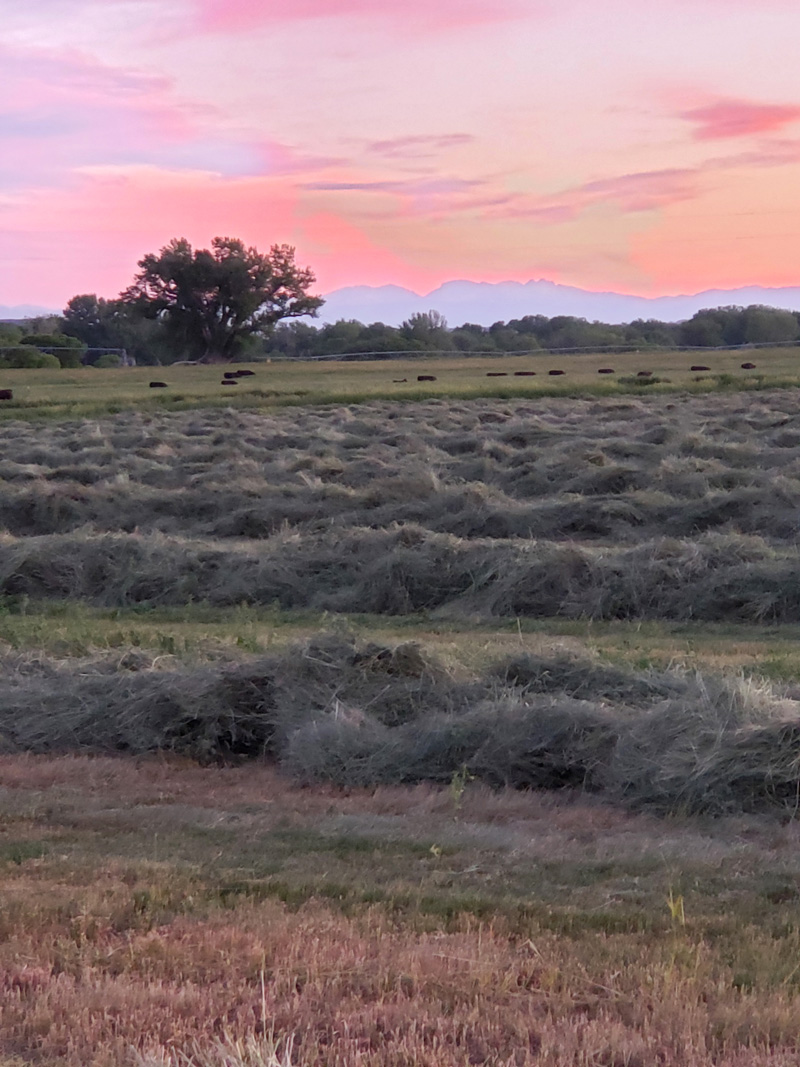 HOW THE EASEMENT HELPS KEEP THE RANCH WORKING
About five years ago, Mike first contacted SCLT to inquire about a voluntary conservation agreement for his family ranch.
"I saw SCLT as the perfect partner to pursue the easement with," he said. "I like their local presence and have always been impressed with their commitment to improving the Sheridan County community."
SCLT determined a bargain sale would be the best path to help Mike meet his needs and achieve his dreams.
A mix of federal and state funds earmarked to keep working lands like Mike's working to produce the food that people eat and the clothes that people wear were used to complete the conservation easement. In exchange, Mike agreed to specific limits on the amount and type of future development on the land while retaining the land's title and the freedom to continue to operate his ranch knowing its productivity and open character would remain.
"It is a decision that should be given much time and thought as it will impact future generations," Mike offered, saying it's a tool that can be particularly useful for young and beginning ranchers and for families transitioning their land to the next generation.
For Mike, that meant he could use proceeds from the bargain sale to pay down debt from purchasing the ranch. That ensures his children – and one day their children – have the opportunity to continue the family business in the future.
"If conserving your land for future agricultural use is part of your vision and it is the right fit for what you want the future of the land to be, then I would recommend it," he said, adding, "A good partner like SCLT is vital in the success of obtaining an easement."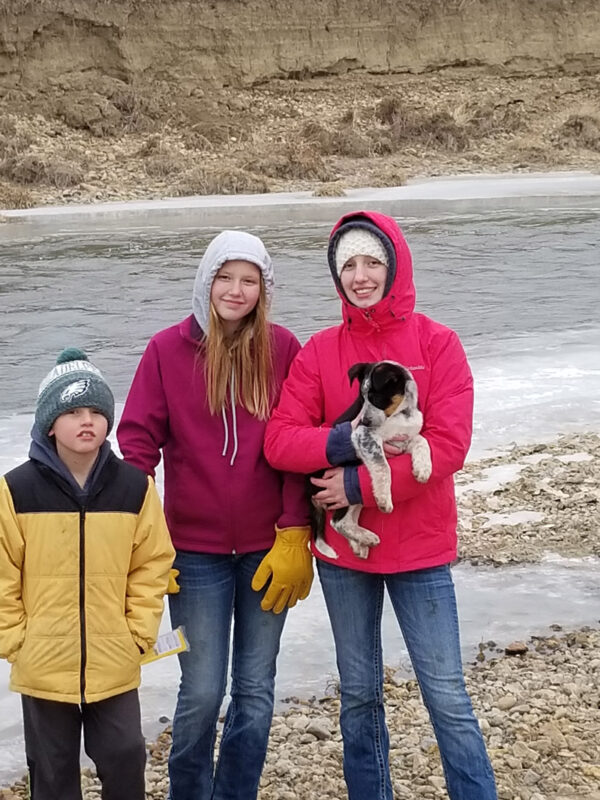 A CREEK RUNS THROUGH IT
2M Farms isn't just a place where calves are grown for market. It is a place where three generations of Mitzels live, work and play.
"The land has come to mean a lot to my family, and I would have to say Clear Creek is the main attraction for us," he remarked.
Smallmouth bass, sauger, and catfish all swim in Clear Creek's waters alongside softshell turtles, otters and mink. White-tail and mule deer and antelope call 2M Farms home year-round. A dozen species of eagles, hawks, raptors and owls soar overhead, while native Greater Sage-grouse and Sharptail Grouse share the ground with introduced pheasant, partridge, and turkey. Bluebird and Meadowlark calls can be heard from the fences while Sandhill Cranes bugle in the grasslands.
"Clear Creek provides so much, from endless fishing opportunities to water for crops and cattle, water and habitat for countless wildlife species, to float trips in the spring for young and old. The water quality is second to none in the state," he said.
Mike pointed out the land is tremendously productive. "Whether growing crops or grazing cows, the yields for this region are outstanding year after year."
And it's those big views of the Bighorns in the distance that make the Mitzels' patch of paradise truly special. "The scenery all around is fantastic, the views of the Bighorn Mountains and the surrounding valley tapering into the prairie never get old."
The Mitzels are the tenth local family SCLT has worked with to develop voluntary agreements to conserve more than 3,900 acres across Sheridan County. Like all these families, the Mitzels feed our community and fuel our economy through the sale of their beef, alfalfa, and specialty crops. Game utilizing the ranch help local herds and flocks stay strong for hunters near and far, which further fuels our economy.
"SCLT has made it a priority to preserve agricultural lands in Sheridan County. Their commitment to this project is what made it possible," Mike offered.
With the 2M Farms Conservation Easement in place, Mike can rest easier knowing his dream of having a productive, sustainable family ranch he can pass to the next generation is attainable.
"To me, conserving the land through an easement means it will help ensure that it is protected for my kids to someday enjoy. It will remain an agricultural operation with the resources of the land protected to ensure it can stay a productive operation. This easement is an essential piece for the future of the family ranch," he concluded.