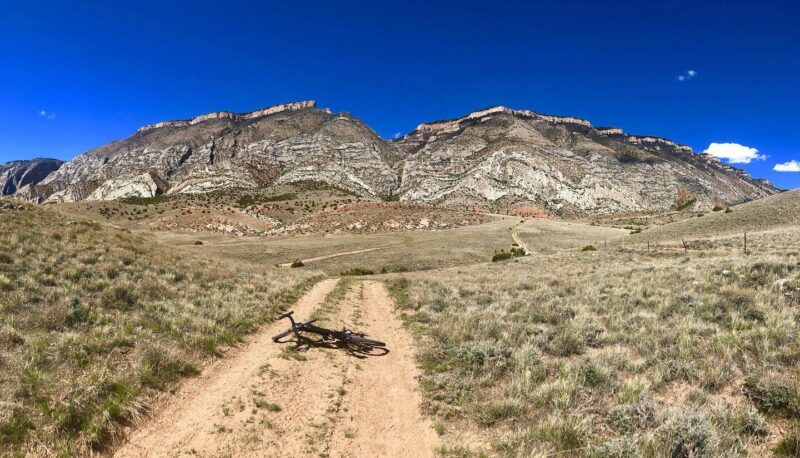 Fun Fact: 56-mile route in the popular Bad Medicine Ride.
Desert riding in a mountain setting.
54 Miles. 46% Gravel, 54% Paved.
Difficulty: Difficult. Rideable: Dry weather only! Usually April-Nov.
Amenities: Beginning/End Only. Cell Service: Spotty at best.
Route Description
As described by our local gravel grinding race developers, this is "a Shell of a ride" through some of the most epic, seldom-traveled roads and trails the West has to offer. Part maintained gravel, part technical and rugged two-track, and part single track-trail the ride spans all 4 Categories on the ISGG, Industry Standard Guide to Gravel; and this bad boy has 6,200 feet of elevation!
The first part takes you through a stunning, colorful desert landscape of red and orange with impressive geological features and incredible vistas, while the second delivers you further up the mountain where an alpine landscape begins to elbow the desert aside. The third portion of this ride is a thrilling pavement descent through the magnificent Shell Canyon. If a challenge with a whole lot of splendor is your thing, this ride is a tough one, but well worth it.
You'll begin and end in the friendly little town of Shell, Wyoming (1 bar, 1 historic taphouse & kitchen creating top-shelf pastries and grub, and 1 campground). It's a small town so parking can be pretty much anywhere, but the town's grassy square is probably the best place to spread out and prepare for your ride.
This ride is the medium course route in the Bad Medicine Race/Ride/Tour event that takes place here each fall. For details and instructions on shortening or extending this ride, or on participating in the race, check out their page.
Unless you want to pack extra weight up the mountain on your tires, the sticky nature of the soil on the lower stretches makes this a dry weather only ride. Since this ride rises substantially in elevation, be aware that the weather is generally unpredictable. You may encounter snow on the upper reaches even late in the year. It can also get very hot in mid-summer so packing sufficient water is crucial. Note that once you've reached the Forest Service land at the top of your ride, there are opportunities to filter water if you carry a filtering device. Also note that cell service is spotty at best along most of the route.
Detailed Directions
Due to the sheer number of private, BLM, and Forest Service roads that branch off of this ride, it's recommended you download a map before leaving. Note that because there are so many turns and twist along the way, the directions below will only list the main roads.
Riding counterclockwise and starting in Shell's town square, you'll take Smith Ave a few blocks south then turn left onto Trapper Creek Road. The first leg of your journey leads you southward. You will wind up the valley on Trapper Creek until you tee Red Gulch Rd.
Taking a left on Red Gulch Rd, you'll now be entering the eastward leg of the route. You'll climb Red Gulch Rd for just under 10 miles until you tee Alkali Rd. Taking another left, you'll ride Alkali Rd, also in an eastward direction for approximately 6.6 miles.
At the end of Alkali Rd, you will start your northward leg. At this point you will have entered the Bighorn National Forest and will take a left onto Forest Service Rd 17. This northerly leg is just under 14-miles long and will turn from Forest Service Rd 17 to Battle Creek Rd, to Ranger Creek Rd.
As you approach the end of Range Creek Rd. you will start to see pavement and hear traffic. You've reached the westerly leg of your journey. Taking a left onto the pavement of US Hwy 14, you will begin the trilling ride down Shell Canyon. Be mindful of your brakes as you descend, this is not a walk in the park yet! You have ~15.6 miles of mainly downhill left before making your last left-hand turn into Shell and the end of this epic ride.
Quick and Dirty
From red deserts to the high alpine, Bad Medicine will take you on "a Shell of a ride!" This ride delivers a big challenge and epic scenery as you ride through a colorful desert landscape with impressive geological features and the magnificent Shell Canyon. This is a dry-weather only ride, usually April-November.
Link to External Map and Downloadable Route File
PHOTOS FROM THE ROUTE
SEE OTHER ROUTES
Questions?
Contact Us Today: