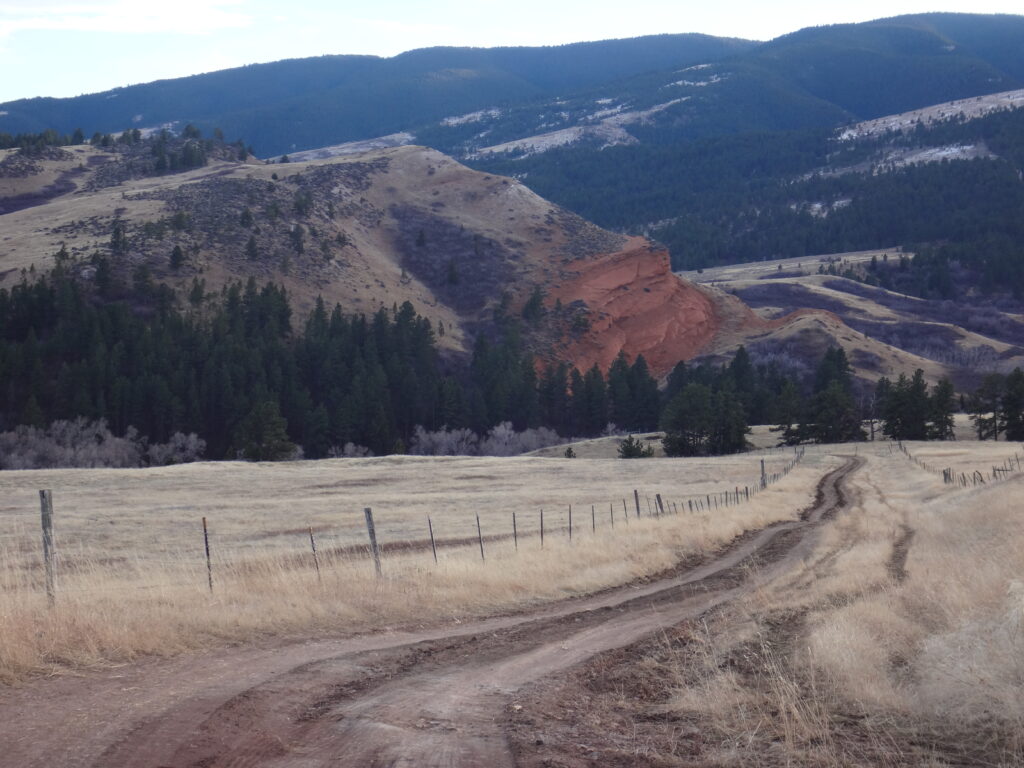 Fun Fact: Rumored to be the loneliest ride in Sheridan County.
Where the grasslands meet the mountains.
31.3 Miles. 69% Gravel/Unimproved Two-track, 31% Paved.
Difficulty: Moderate. Rideable: Dry or frozen weather only!
Amenities: Establishments in Parkman & Dayton. Cell Service: Spotty at best.
Route Description
If variety and solitude is your thing, this is your ride. Along with a changing surface, you will experience a terrain packed full of climbs and drops, some exhilaratingly steep. There are also several creek crossings along the way where you might get your feet wet and a segment of unimproved two-track. No lack of scenery here. Meandering along where the grassland meets the mountain, down through tree lined creek beds full of wildlife and up on spectacular scenic overlooks, with places of bright red soil and rich green vegetation, it'll be hard to keep your hands off your camera. Traffic? Only on the pavement. You'll be truly alone on much of this ride.
There are segments of good gravel, rough and rutted gravel, gravel that's more dirt than gravel, and a stretch of two-track with no gravel. Don't try to ride this when wet, go only when frozen or dry… this is a dry-weather ride! The clay will stop you in your tracks (literally). This ride spans all 4 Categories on the ISGG, Industry Standard Guide to Gravel.
A shorter 23-mile abbreviation of this loop described below can be done by taking Twin Creek Road that will route you directly to/from the town of Parkman instead of going farther north.
Riding clockwise is how this route is normally done, but counter would work equally well. Be sure to visit the Parkman Bar and Grill or one of Dayton's several establishments while you're out there.
Detailed Directions
We'll begin the directions for this ride in at the historic Dayton Mercantile, a great spot to refresh before or after the ride. There's plenty of parking in town, other establishments, and camping nearby.
To begin you'll head east away from the mountain and at the edge of town just after the bridge you'll turn left on State Hwy 343. In ~.9-mile you'll turn left on Smith Creek. Smith Creek becomes progressively more rugged the closer to the mountain. As the road starts to swing northward, there's a smaller more rugged road that takes off to the left. This very rocky and steep forest service road accesses the top of the mountain and would be a nice walk to see more of this country. Note that this is not at all a bike worthy road!
At this northward swing in the road, the road turns from Smith Creek to Twin Creek Road. Continue northward on Twin Creek for ~4.9 more miles. There are only a few small ranch roads that spoke off along this stretch, so no worries of losing your way. Next you will come to a large 3-way intersection. If you go straight (slightly to the right), you'll end up in Parkman and shorten your ride to a 23-mile loop.
If you're in for the full ride, take a left. A cattle guard will come up in ~.3 of a mile. To the left and just before the cattle guard is a drop gate and a fenced lane with a two-track down the middle. You'll take this left and go thru the gate to the lane, but please leave the fence as you found it! If up, put it back. If down, leave it down. The "No Trespassing" signs are a bit intimidating, but the lane is a public right-of-way known as the Parkman-Slack Road. The signs refer to trespassing on the ranch land on either side of this lane, so make sure you don't cross the fence, for any reason.
The Parkman-Slack Road is 3.7 miles of wild and scenic two-track bracketed by undulating grassland as far as you can see. The lane is entirely fenced so no worries of losing your way here either. The lane eventually dead ends into a wide gravel road known as the Pass Creek Road (Co. 144). Take a right and stay on this main road until you tee the paved highway Co. 345. Take another right and you're 2 miles from the Parkman Bar and Grill. After leaving Parkman you'll ride ~3 miles then take a right on Co. 343 (AKA the Dayton-Ohlman Rd) which will tee you back to the edge of Dayton.
Quick and Dirty
If you crave variety and solitude, this is your ride. You'll experience terrain packed full of climbs and drops – some exhilaratingly steep! – as you traverse changing surfaces in what just may be the loneliest ride in Sheridan County. There are segments of good gravel, rough and rutted gravel, gravel that's more dirt than gravel, and a long stretch of two-track with no gravel. This is a fair-weather ride only! 31.3 miles- 69% gravel, 31% paved. Moderate in difficulty. Little to no cell service. An opportunity to shorten this ride to 23 miles.
Link to External Map and Downloadable Route File
PHOTOS FROM THE ROUTE
SEE OTHER ROUTES
Questions?
Contact Us Today: