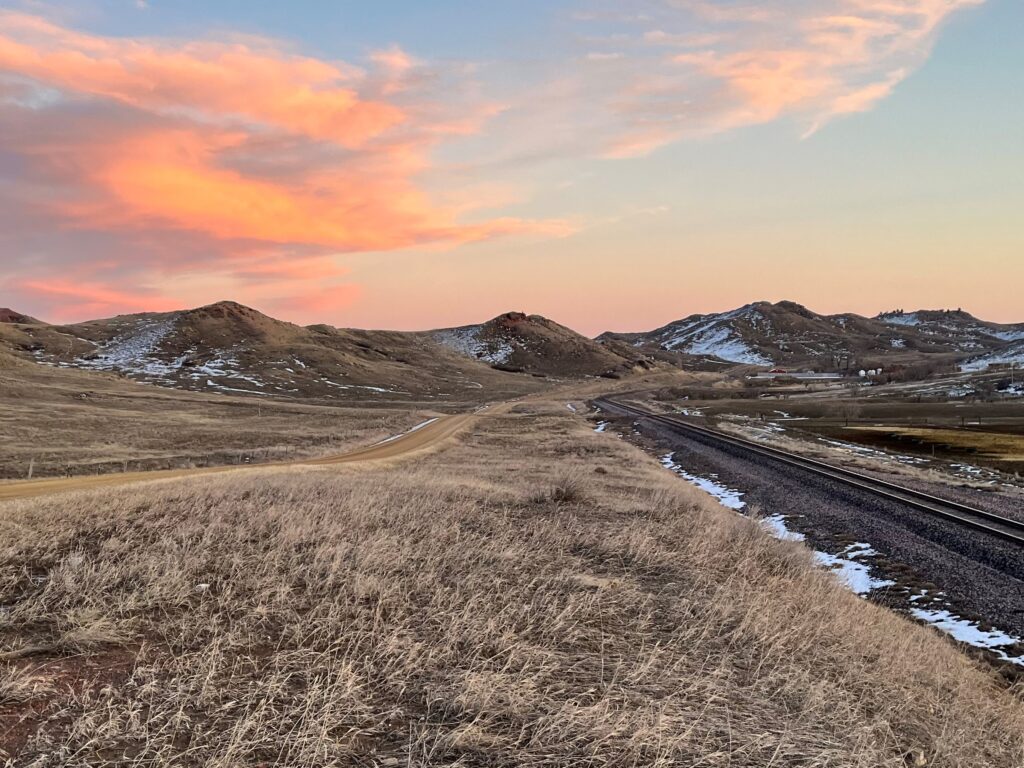 Fun Fact: There's hundreds of miles of great gravel east of Sheridan.
Peaceful country riding at its finest with views that speak to your soul.
52.66 Miles. 86% Gravel, 14% Paved.
Difficulty: Easy. Rideable: Year-Round.
Amenities: None (unless Wyarno Bar & Grill is open). Cell Service: Drops off the further out you go.
Route Description
There's so much great gravel east of Sheridan that it's hard to describe just one loop. When looking at a map you'll see loads of possibilities. Extend your ride, shorten it, do an out-and-back to explore somewhere you've never been… this is the land of opportunity.
Out of the many choices, we've chosen the Wyarno/Ulm loop to describe. It's the center loop of the group and the one that has the most gravel. With only a handful of ranches in the 30-odd miles that make up the loop, you're really on your own out here. If you find yourself riding the middle of the road, it's OK because an occasional ranch vehicle and rabbits is all you'll contend with.
Here, where the ground breaks away from the Big Horns, the terrain becomes a land of rugged hills scored by narrow valleys. In the early 1890's when the railroad was expanding across Wyoming one of these valleys just happened to be perfectly suited for a line. Riding clockwise you'll enjoy the long, low grade as you follow the railway up the valley.
This ride goes from a "sit back and be absorbed into the scenery" kind of ride, to one that keeps you on your toes with some punchy rises and falls that come at you in quick succession. And when you drop off the high divide into the parallel valley for the second half of this loop, you'll be treated to a few spectacular views of the Big Horn's, a tiny blip or two of cell service, and a mostly descending ride back to Wyarno.
This ride's gravel is primarily hard-packed and fast and falls within categories 1 & 2 on the ISGG, Industry Standard Guide to Gravel. The roads have no shoulders, but you won't need them anyway. All the roads on this ride are well signed so no worries about taking a wrong turn, the route is easy to follow.
Other than the establishment at Wyarno which may or may not be open (best to call ahead), there are no amenities. Pack what you need for this ride, including plenty of water. It can get hot in this area and there's no water sources to filter from. On maps you'll see the towns of Verona and Ulm, but these are not actually towns, just once upon a time railroad stops that a few hardy souls called home.
Detailed Directions
Like many locals do, you may begin riding at the Wyarno Bar and Grill, making what's described below a 33-mile loop. To make this particular loop a longer ride, we'll begin these directions closer to Sheridan.
You'll begin this ride at the 5th Street Visitors Center and take the Wyarno Hwy eastward out on to the plains away from Sheridan. In ~0.8-mile you'll stay straight and exchange the pavement for gravel on a road known as the Wildcat Rd. Pedaling past the gravel road teeing off to your right (Wakeley Rd)  and the gravel teeing off to your left (Cat Creek), you'll stay on Wildcat for ~ 8.4 miles until you tee back into the Wyarno Hwy. Back on pavement for 3 miles, you'll pass the sometimes happening, sometimes not, Wyarno Bar and Grill.
A bit past Wyarno you'll come to a big intersection in the road. This is the beginning of the loop portion of this ride. If take the left-hand branch, you'll ride clockwise and will ascend the loop at a much lower grade then if you take the right-hand branch up Dow Prong Road. This is the direction detailed below.
After ~2.2 miles beyond the intersection you'll approach another intersection. Turn right, staying on Ulm Rd. From here you'll follow the rail line up the valley for ~12.4 miles. Not far beyond the West Ulm switch station and several punchy rise and falls in the road, you'll turn right on Coal Creek Road followed shortly by a left on Dutch Creek. Dutch Creek is your return segment of the loop. Dutch Creek eventually turns into Dow Prong which tees you back onto the Wyarno highway. From there you can retrace your route back to Sheridan or ride the highway.
Quick and Dirty
This is peaceful country riding at its finest. A 52-mile round trip ride that contains a 30-mile loop east of Sheridan thru unpopulated narrow valleys flanked by rugged hills. 86% Gravel, 14% Paved. Easy in difficulty, with little to no traffic, on firm and fast gravel.
Link to External Map and Downloadable Route File
PHOTOS FROM THE ROUTE
SEE OTHER ROUTES
Questions?
Contact Us Today: