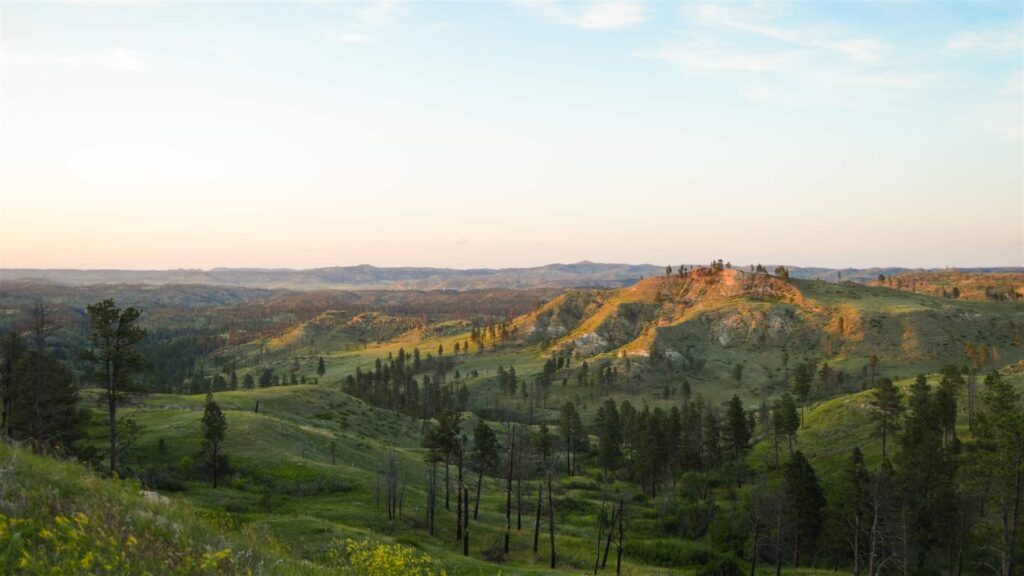 Fun Fact: Where poker, Shakespeare and lookout towers have something in common.
Forest islands surrounded by grasslands.
Miles of lonely gravel and single-track game/cattle trails.
Difficulty: Easy/Moderate. Rideable: Mid-April thru Oct.
Amenities: None. Cell service: Spotty.
Route Description
Just across the border in our neighboring state of Montana lies the Ashland Ranger District of the Custer Gallatin National Forest (Custer for short). Containing just under a half a million acres, this is a rarely visited place that gives a glimpse of what an untrodden National Forest looks like; a picturesque place where you'll find recreation opportunities and solitude.
You'll begin and end your ride at Poker Butte. Legend has it that the Butte got its name when ownership changed hands in a poker game. Somewhere along the line another story became attached also, a story about an itinerant cowboy named Poker Jim that met a tragic end but had the last laugh. Here's the complete story.
So, where's Shakespeare come in? Well, in this most unlikely of places, literally in the middle of nowhere and just beyond a tiny ranching town named Birney (population 13, give or take) a Montana theater company has put on live theater for years. Every year hundreds of people gather here in July to see the show, plein air style. The New York Times once published an article that stated that "The people of Birney have probably seen more Shakespeare than 99 percent of the people in New York City," Mr. Jahnke said. One evening here, he recalled, as he listened to two cowboy-hatted ranchers compare a Malvolio they had seen six years earlier to the one they had just seen, he shook his head and said, "Where in the hell am I?". Trust me, if you ever ride in this remote place, you'll be shaking your head at such a notion too. Get the story here.
Then there's Poker Jim Lookout Tower, a spectacular historic thing that looms over the place. If you're lucky enough, the Lookout may take you in and show you the fascinating instruments they use to watch for and report distant wisps of smoke. Keeping fire watch over the surrounding forests, the rolling prairie, and far off in the hazy distance, the Big Horn Mountain range is important business and since you can see a hundred miles or more in every direction, this is just the place to do it.
If you're looking to stay awhile, why not sleep in one of these towers! In the southeastern corner of the Custer is the Diamond Butte Lookout and for the bargain price of $45/night you can add a unique experience to your trip (reserve thru Recreation.gov).
Making this area even more special is that in all that acreage the Custer has only a handful of roads and three Hiking and Riding Areas totaling 40,000 acres (Cook Mountain, King Mountain, and the Tongue River Breaks). These areas are closed to motorized vehicles, have no established trails, and are the most magnificent spaces in the Custer. So if you're on the right bike, go off-gird and ride to your hearts content on the area's game and cattle trails.
The landscape within the Custer is a mosaic of forest dominated by Ponderosa Pine and park lands covered in native grasses. When riding you'll encounter frequent grade changes in this hilly environment but nothing too extreme. You'll pass sandstone pillars and unique rock formations, and you'll rarely meet another soul. In 2012 a fire swept thru the area and charred silhouettes still stand above the now flourishing vegetation lending to the remote feeling one gets out here.
There are no amenities in the Custer or in the town of Birney. It can get blistering hot in summer and water for filtering is scarce. This is a pack all you need sort of ride. It's recommended that you download a map before going. Click here for a forest service map to the area. Spring is the favored time to ride here but even though the elevation of this area is relatively low snow and mud can linger. And lookout for rain, most roads here turn to a gooey muddle when wet. The loops described below are on some of the best gravel and fall within category 2 & 3 on the ISGG, Industry Standard Guide to Gravel.
Next time you're up on Red Grade in the Big Horns, look northward to the small timbered mountain off in the distance. This is the Custer National Forest, and someone may be looking back at you.
Detailed Directions
To start, you'll make your way to the town of Birney and then on to Poker Jim Lookout, an approximately 2-hour drive from Sheridan if you take the fastest route.
Leaving Sheridan, you'll drive the Decker Hwy northward (WY 338 to MT 314). At the Tongue River Reservoir, you'll have the choice to either take the fastest route by staying on pavement for a bit longer before turning onto the graveled Birney Rd (MT 566) or the lengthier scenic route on Tongue River Rd.
The scenic route is the slow boat to Birney, but well worth the time if you have it. It's a spectacular, narrow, curvy, sometimes hanging over the edge of the river stretch of gravel that may make you want to ride to Birney instead of drive. If you're so inclined, a great place to park and start is at the marina or the day use area below the dam at the northern end of the lake (expect a fair amount of traffic until below the dam, then little to none the rest of the way).
Once in Birney (don't blink, you might miss it) you'll turn right onto Hanging Woman Creek Rd, then at the fork, hang left onto E Fork Hanging Woman Creek Rd. When you cross into the Custer National Forest the road turns to 4095 (Cow Creek Rd). Not far after entering the forest you'll take a left onto 4801 (Poker Jim Butte Rd). You'll follow the this up and around and take a left at the sign to the lookout- 4801A (Poker Jim Lookout Rd). Make the top of the Butte and park in the day use area with restrooms, picnic tables and fire pits. The stretch of gravel you just drove makes up the western side of the loop you'll be riding.
We will describe two loops, one longer, one shorter, which can be ridden in either direction. For this purpose, we'll give clockwise directions. On both loops you'll ride from high to low then back up again. The roads are generally signed well using the forest's numbering system. There's a number of other longer rides to explore as well.
Leaving Poker Jim Butte, you will turn left on to the main road 4801 (Poker Jim Butte Rd). For the shorter 14.8-mile loop, stay straight on 4801 when the large road 4802 (Hay Stocker Rd) that tees off to the left comes up. The shorter route will loop you back down to 4095 (Cow Creek Rd) where you'll follow the Hanging Woman Creek Valley back to the intersection of 4801 that you took when you drove up to the Butte. Retrace your route back to your vehicle.
For the longer 22.7-mile loop take the tee onto 4802 then take a right on 4021 (Stocker Branch Rd). You'll come to a Y in the road where 4021 turns to 4131 (O'Dell Creek Rd). Stay straight. 4131 dead ends into 4095 (Cow Creek Rd, AKA E. Fork of Hanging Woman Creek Rd). You'll take a right and return to the intersection of 4801 that you took when you drove up to the Butte. Retrace your route back to your vehicle.
Quick and Dirty
This is a rarely visited place that gives you a glimpse of what an untrodden National Forest looks like. You'll ride through a mosaic of forest and grassland dotted with unique rock formations. The route will take you from high to low and back up again. The gravel ranges from good to rough and rugged. Traffic is rare, if at all. Riding can be done generally from mid-April to October with Spring as the favored time. No amenities and spotty cell service.
Link to External Map and Downloadable Route File
PHOTOS FROM THE ROUTE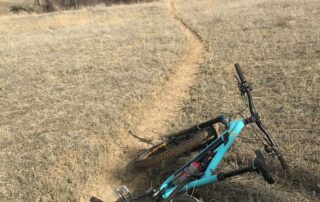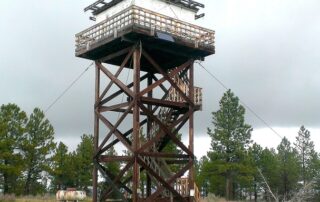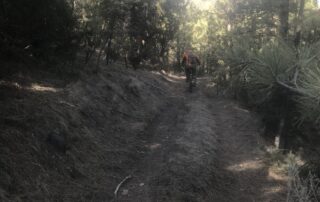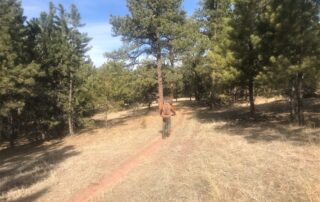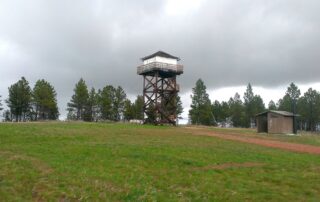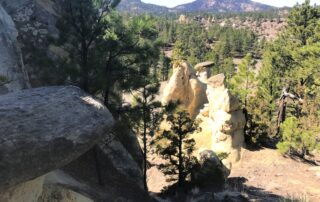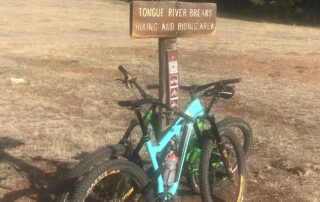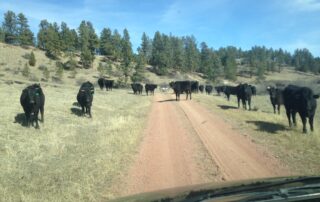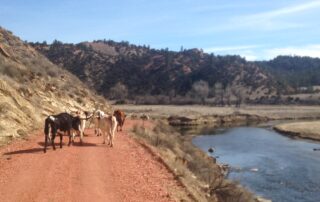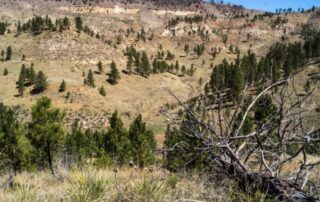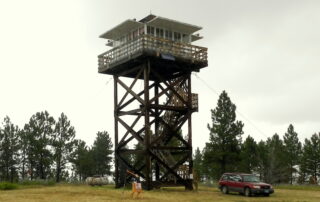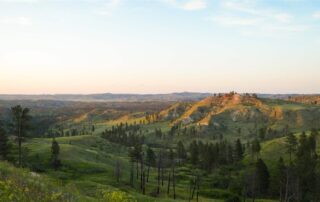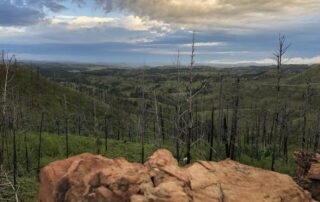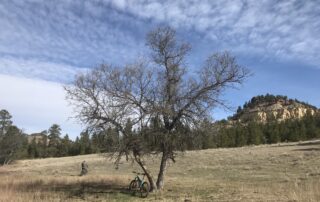 SEE OTHER ROUTES
Questions?
Contact Us Today: