Students and staff of the John C. Schiffer Collaborative School must have had Cole Porter on their mind in early May as they turned strand after strand of barbed wire loose under western skies – Bridges West-ern skies that is.
The 47 students and seven staff members spent much of the day at the former NSI campus helping Bridges West and Sheridan Community Land Trust make the property more friendly for wildlife movement by removing several sections of fence and eradicating many young Russian olives.
The day could be summed up in four words: don't fence me in.
"This project benefits Bridges West on multiple levels. Removal of old fencing and invasive Russian olives serves to enhance land health and fulfill our neighborly obligations," Bridges West Manager Tris Munsick remarked.
Thanking the students, staff and SCLT for their assistance, he continued, "It also allowed for impactful community engagement and significant teaching opportunities for the volunteers who participated in the project.  One of our goals is to improve the overall condition of the property. This project moved us one step closer to succeeding in that goal."
According to Schiffer School Social Studies Instructor David Peterson, "don't fence me in" applied as much to the students as much as it did to the wildlife that their efforts have helped to move more freely across Bridges West.
"At the Schiffer School, we believe that learning should not be confined to the four walls of the classroom. There is more to the world than the brick and mortar of a building," he relayed. "The Schiffer School frequently reaches out into the community as an integral part of our approach to education."
By early afternoon, the group had removed about 300 yards of fence. While that figure may seem small in comparison to what University of California at Berkely researchers estimate are more than 600,000 miles of fence throughout the Mountain West, SCLT Conservation Program Manager Meghan Kent said this removal will have an outsized impact because collar data from the Northern Bighorns Mule Deer Study document mule deer accessing the property.
"A project like this lets wildlife pass through with less problems, meaning less carcasses and less fence repairs," Kent offered.
Game cameras from the preceding month showed deer stopping at the fence, often without crossing. Bones and hides discovered during removal added evidence that the fence once stood as a lethal barrier.
Munsick said he recommend property owners across Sheridan County consider fence removal and modification where practical.
"Most fences exist for a reason, but there may be small changes that have large impacts on the local wildlife populations," he noted, saying landowners should consult with wildlife managers who have the expertise to help landowners improve wildlife habitat in efficient, cost-effective ways.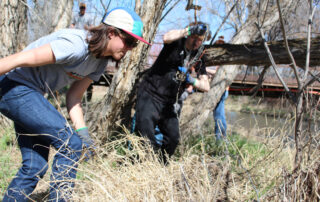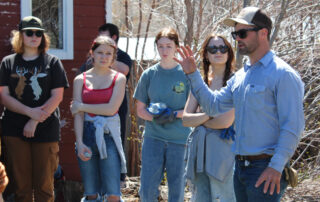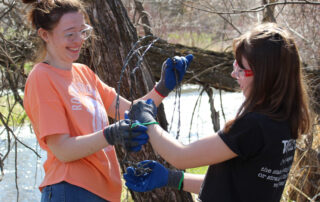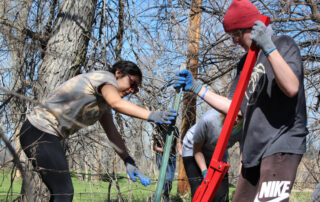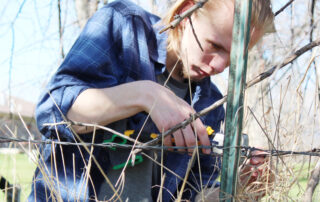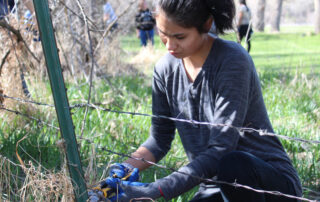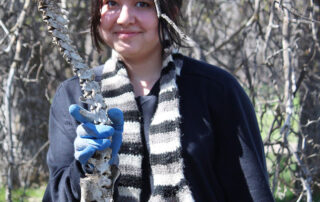 That's where SCLT can help.
"Wildlife friendly fencing is not one size fits all," Kent stressed, saying SCLT can help landowners and land managers choose the type of modifications that will meet their needs and the needs of wildlife. As SCLT's wildlife friendly fencing program develops, Kent added, many of these projects can be accomplished at little or no cost to landowners.
"Stop by our office. We're always happy to chat about wildlife friendly fencing," she concluded.
As the final section of fence came out, part of the group grabbed clippers, loppers and nippers to rid the site of an insurgent red-fruited menace – new shoots of Russian olive. The invasive species was first introduced to Wyoming in the late 1800s for landscaping and shade, but its ultra-hardy traits have allowed it to take root and spread throughout the state, including the Big Goose Valley where Bridges West sits.
"Many of our neighbors have engaged in removal projects, and it was past time that we did our fair share," Munsick asserted, explaining, "Removal of these invasives opens up the riparian corridor for native tree species like plains cottonwood, willow species and more, and improves wildlife and bird habitat. We will most likely never eradicate Russian olives in our area, but managed control helps to minimize their presence and improve overall riparian health."
While the students worked at the new growth, Bridges West staff were using heavy equipment to remove the property's full-grown olives.
"We are always on the lookout for like-minded partners in the community. SCLT shares many of our values, and we enjoy working with them as often as we can," Munsick finished.
For the students, the day was a way to forge a deeper connection to their community by giving back in a way that makes the place they call home even better.
"It was tiring and a bit time consuming, but it was also educational," said Quintin King. "I was able to learn about how to protect the environment and help keep Earth clean."
For Kirian Krogen, getting to spend the day in Mother Nature was a refreshing change of pace. "You had to work hard to feel like you did a good job, but it was not exhausting," she said of her time taking apart and rolling fence.
"We definitely earned our lunch!" added Kamryn Dygon.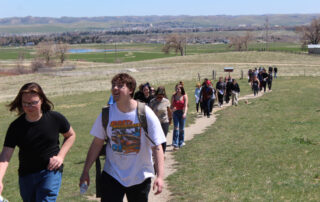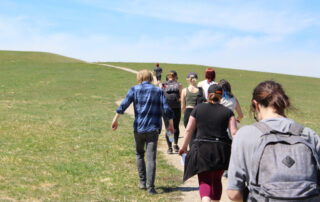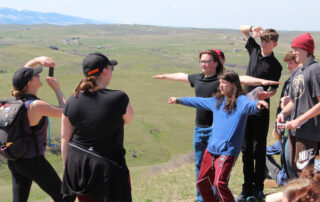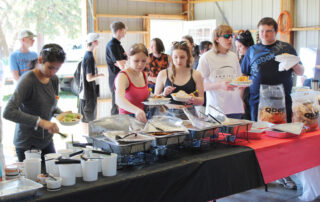 That lunch came courtesy of Qdoba in Sheridan, which delivered a full burrito and taco bar to the Bridges West barn. After the work was through, the group wandered over yonder 'til they could see the mountains rise at SCLT's Soldier Ridge Trail.
"Over the years we have worked with SCLT because it is an activity students can connect to in terms of contributing to the larger community of Sheridan. SCLT has always put together meaningful projects for our students to work on. Students can see the growth of the project and have a sense of ownership in the SCLT endeavors. It is also about exposure and awareness. Many students are unaware of the trails in our area. The trails provide an activity the students can do in their future," Peterson said.
Upon taking in the great greening foothills leading to a stunning Bighorns view, Lakya Reynolds declared, "There's nothing like this in San Antonio. I love it here!"
Or, as Cole Porter might have sung it along that ridge where the West commences, "Send me off forever, but I ask you please, don't fence me in."
SCLT and Youth, Inc., will host a Volunteer Fence Removal and BBQ at the Thorne-Rider Youth Camp in Story on Saturday, May 21 beginning at 1 p.m. Participants are invited to bring their tents and camp at the camp as well. Learn more or sign up to help at https://sheridanclt.org/events/volunteer-fence-removal/.
To learn how you can make your land friendlier for wildlife, contact Meghan Kent at (307) 673-4702 or [email protected] or visit https://sheridanclt.org/land/friendly-fencing/.