SCLT is excited to partner on a first-of-its-kind study which explores the seasonal movements of mule deer in the Northern Bighorns.
Carrie Kyle, a graduate research assistant withe the Kauffman Lab in Wyoming Cooperative Fish & Wildlife Unit at the University of Wyoming, prepared the following study update based on information collected through December 2020.
Notably, the mule deer that occupy the Bighorn Mountains have never been studied with GPS collars, and thus their seasonal movements are largely undocumented.
This study will gather valuable information that can help stakeholders better understand mule deer seasonal ranges, habitat use and movement. Armed with this information, decisions can be made with public and private land managers to conserve and improve habitats and maintain connectivity. Potential outcomes include habitat improvements, guidance for forest planning, fence modifications, conservation easements and modifications to hunting season structure. This study could also help inform managers on potential transmission risks for Chronic Wasting Disease in this herd. Collared mule deer will also complement existing projects with collared moose and elk occurring in the same areas.
By collaring a total of 130 adult female mule deer that occupy the northern Bighorn Mountains our primary objectives are to:
1) Identify and delineate mule deer seasonal movements in the northern Bighorn Mountains. This will be accomplished by using GPS collars collecting locations every 2 hours over at least three years.
2) Evaluate seasonal range and habitat use. Spatial data from GPS collared deer will be used to identify seasonal ranges and habitat use/selection.
3) Identify habitat improvement and conservation opportunities. Identifying habitats important to mule deer will allow for better management on both public and private lands. And it will allow conservation of winter range and areas important to seasonal movement to be prioritized.
4) Document vital rates for northern Bighorn mule deer herd. We will document fawn production and 3-6 month old fawn survival, primarily through relocation of collared females and visual observations. We will also attempt to identify limiting factors for production and survival.
DATA COLLECTION
December 13, 2020, marked the third round of captures for the study, where we captured and collared an additional 39 mule deer does on winter ranges. All helicopter net-gunning captures were conducted via field processing by Native Range Capture Services. Female mule deer were fitted with a Telonics RECON-4560-4 Globalstar satellite GPS collar. The collars are programmed to collect a GPS location every 2 hours and transmit 1-2 locations via satellite daily. The battery capacity of these collars is approximately 3.5 years. All collars are scheduled to drop off in March 2023, three years after the first capture event.
The collars emit a very high frequency (VHF) signal, which will allow ground technicians to locate dropped collars and retrieve the stored data.
During field processing, temperatures were recorded to monitor overheating. We collected blood samples (~20 mL) to provide the Wyoming Game and Fish veterinary lab samples to screen for disease and genetic testing. We also collected fecal samples (~15-20 pellets) for nutritional analysis.
CAPTURE LOCATIONS
Nearly 95% of the deer captured on summer ranges in August 2020 moved to winter ranges on the west side of the study area. To bolster our sample size of deer wintering on the east side and to obtain a sample size goal of 130, we caught an additional 39 adult female mule deer on winter ranges east of the Bighorn Mountains near Dayton, WY (Figure 1).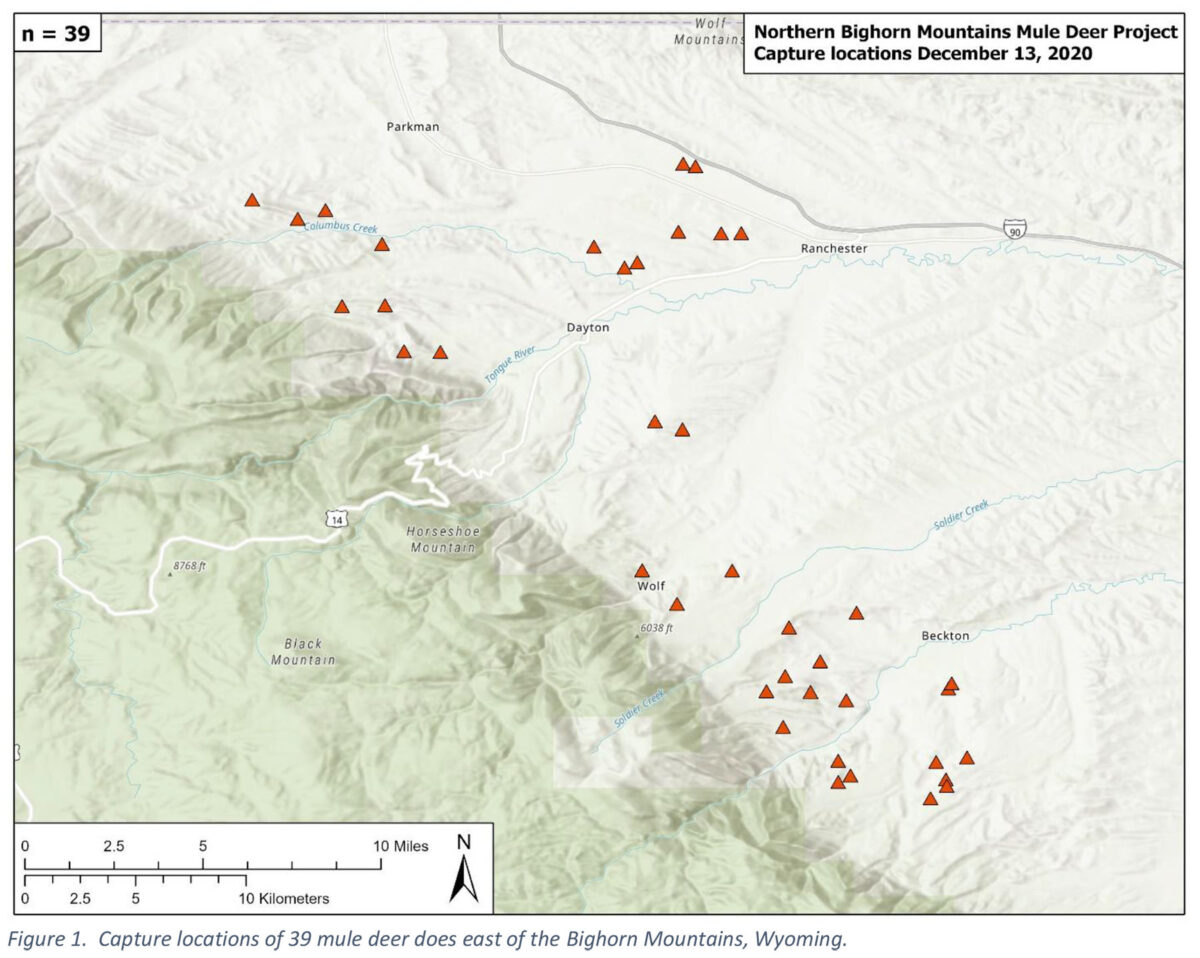 We currently have 116 active collars. All collars are successfully transmitting locations. Please see Figure 2 for the latest movements of the collared mule deer from the latest capture event.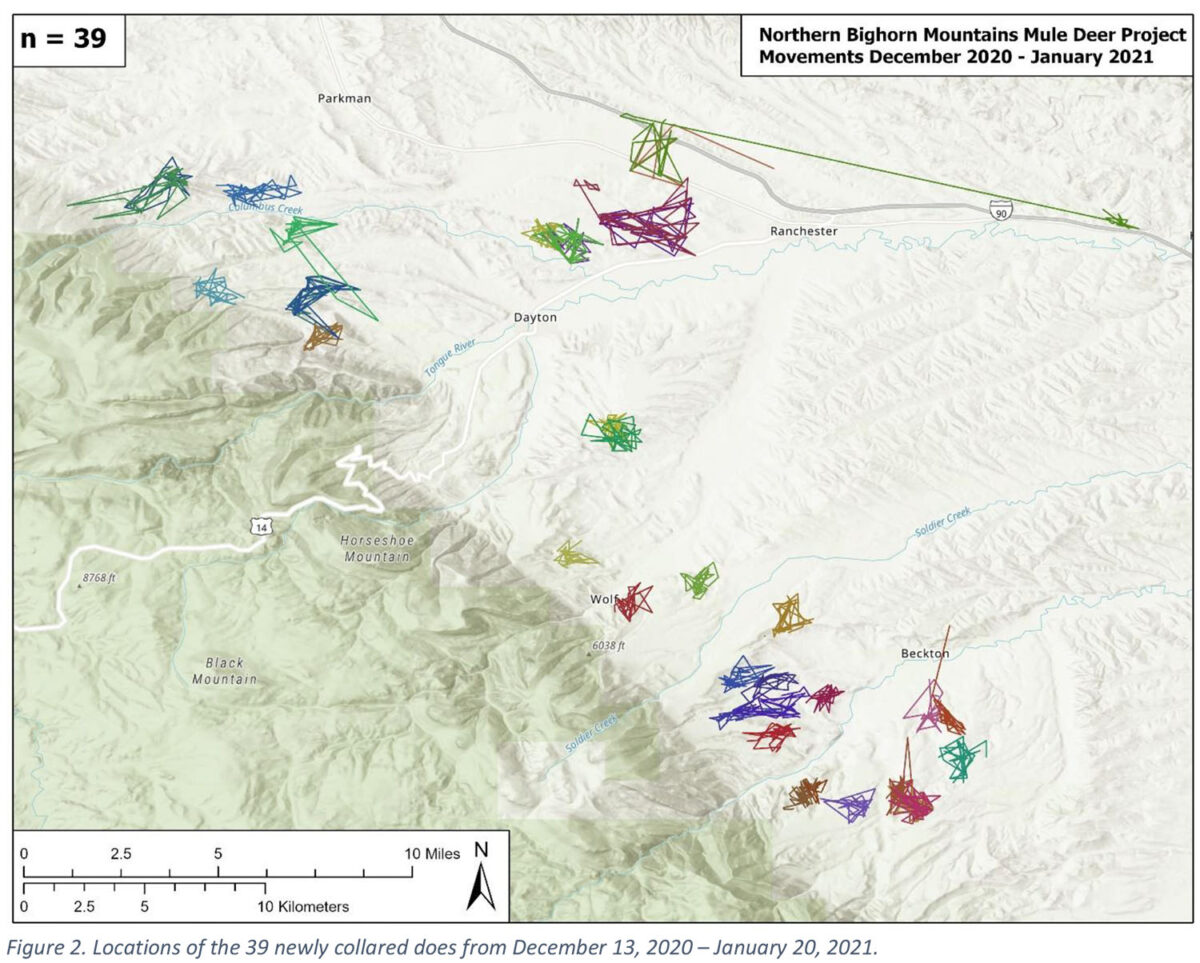 We are hoping the newly collared deer will add to our limited sample of migratory deer on the east side of the mountain. Not including the newest captures, we have 67 migrants on the west side and four migrants on the east side of the mountain. Movements from all deployed collars, including redeployments after mortalities (n=126) can be seen below in Figure 3.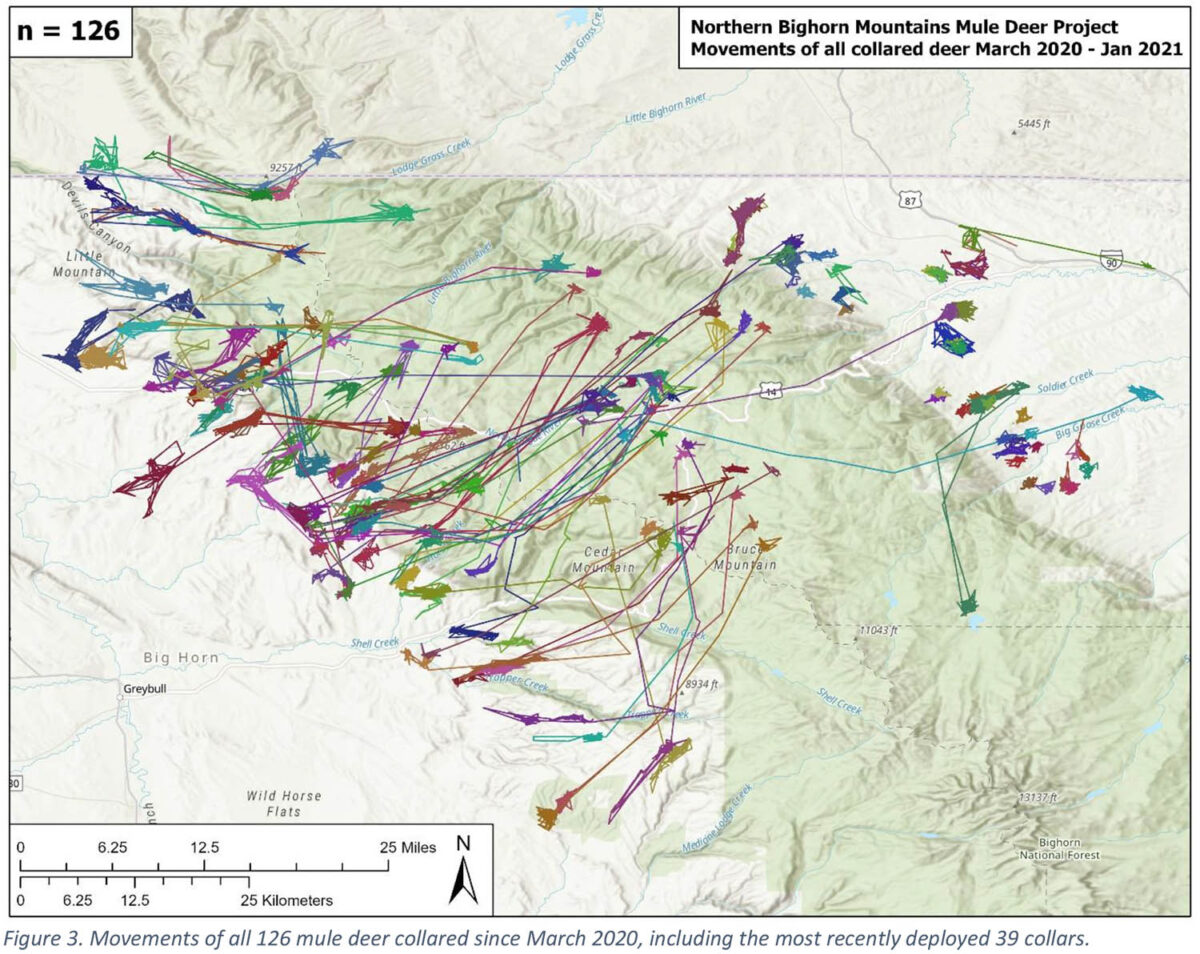 ACKNOWLEDGMENTS
We thank the following funders and collaborators for making the Northern Bighorn Mountains Mule Deer Project possible: Wyoming Game and Fish Department, Knobloch Family Foundation, The Nature Conservancy, Sheridan Community Land Trust, Wyoming Wildlife and Natural Resource Trust, Wyoming Big Game License Coalition, Mule Deer Foundation, Bow Hunters of Wyoming, Muley Fanatics Foundation, US Forest Service and the Bureau of Land Management.