When Brit William Langland first wrote "patience is a fair virtue" into a poem in the mid-1300s, it's unlikely a patch of paradise an ocean and a continent away were on his mind.
For many, the Tongue River Valley is a special place next to the Bighorns.  The River Road Ranch homestead of Kris Korfanta and Bill Bensel has been a place to grow a family, raise hay, grains, vegetables, and graze livestock for many years.
A lot of sweat equity has been invested to improve their irrigated and dryland acreage, establish windbreaks and wildlife habitat, as well as an energy efficient rammed earth home powered by solar electric and solar hot water heating. Bill and Kris knew they wanted to ensure that the land that has given so much to their family for so many years would continue to be productive ground for future generations.
"We call this home for many reasons," they relayed, saying the views of the Bighorns, the diversity of all kinds of wildlife, and the productivity of the land combine to make this patch of paradise between Wolf Creek and the Tongue River a compelling place to call home.  "It conveys a sense of place, a connection," they continued, adding, "Our irrigated hay and even dryland production is really impressive this year."
An Expanding Threat
With booming growth and development eating up quality agricultural lands and open spaces in Sheridan County and the Tongue River Valley, Kris and Bill were motivated by the opportunity to maintain the current land uses on their place far into the future.
"There is an increasing loss of agricultural land and open space to development, like we have never seen before," they said, created by a major influx of population, especially over the last several years. Bill and Kris described housing developments in the valley "popping up like mushrooms."
"We're a part of wider efforts in our county to maintain traditional land use and the values that go with it.  The land has been good to us and maintaining open space benefits the wider community, too."
Patience has, indeed, been a virtue for Bill and Kris as they carefully crafted a plan for their home ground that balances today's needs with their vision for its future. Recently, the family closed the current chapter on their land as they write a story of its continued agricultural and wildlife production – a story that will last generations – by completing an agreement with the Sheridan Community Land Trust to voluntarily conserve their homestead in the Tongue River Valley.
SCLT saw the same values, which is why the organization chose to work with the family when they originally asked about conserving their land. The River Road Ranch Conservation Easement is the 13th conservation easement SCLT has helped local families create. It encompasses 132 acres and is adjacent to another SCLT easement in the Tongue River Valley priority area, and includes wetlands, hay fields, and grasslands.
"It is an amazing property with a diversity of uses for wildlife and agriculture," SCLT Executive Director Brad Bauer stated. "It is near a growing community and could easily have been developed and lost. This easement ensures these working lands remain open space and wildlife habitat forever."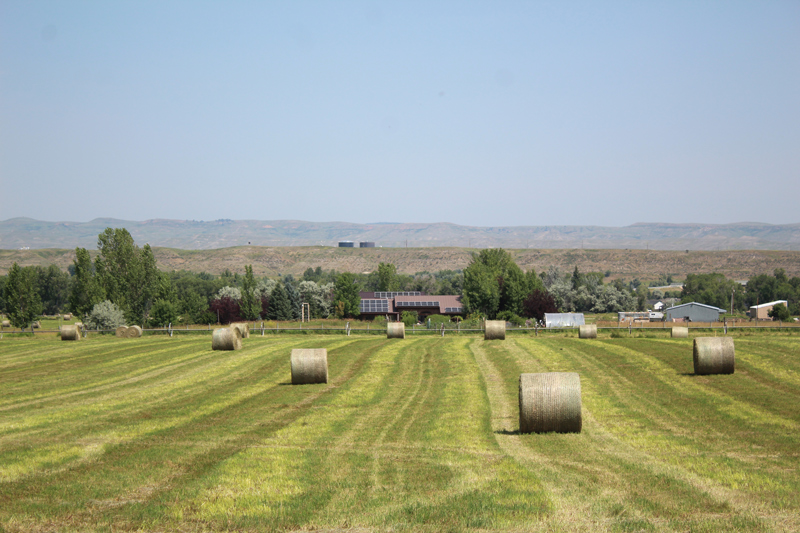 An Impactful Choice
By partnering with SCLT, Kris and Bill were able to create an agreement that puts agricultural use and open space at the center of everything that happens on their land. It also prevents the property from being subdivided for development down the road.
"The conservation easement gave us assurance for continuing ag use regardless of future ownership and management changes," Bill and Kris explained. Though the easement prohibits large-scale development, the agreement created a small building envelope for their children to build homes in the future if they choose.
Decisions did not come lightly, as Bill and Kris knew the choices they made for the land today would be felt far into the future. They were thankful SCLT's Conservation Director Meghan Kent and Brad Bauer were there to help them through the process.
"Brad and Meghan were extremely helpful and patient in working us through the intricacies of planning, contract, and process details. Former SCLT Director Colin Betzler got us thinking about the conservation easement probably 15 years ago," they stated. "It put us at ease in making the big decisions to forego future development rights while assuring the land's continued traditional use for future generations."
It also means decisions about their private property remain in the hands of the family.
"No amorphous 'Big Brother' is going to come in and tell us what to do in this conservation easement. We've made an agreement based on a clear understanding of the requirements and benefits," they reasoned. "The conservation easement does not grant public or governmental access or control. Our land remains private property, but it does convey rights foregoing development."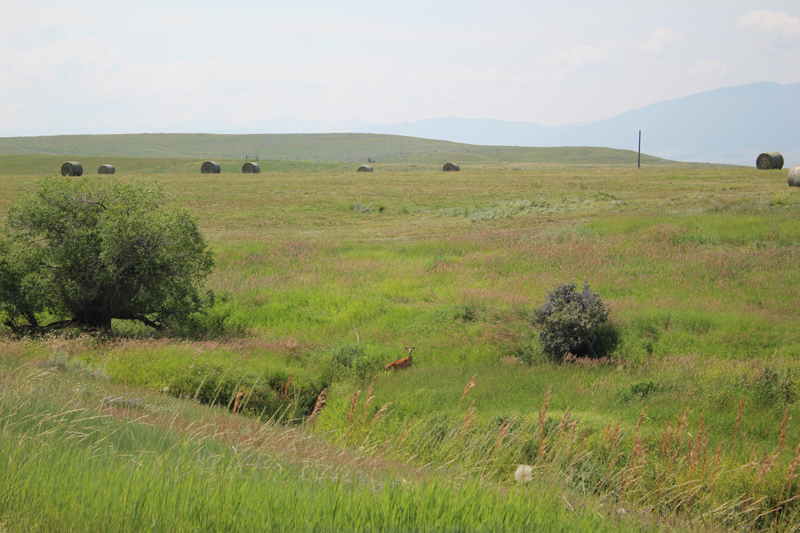 SCLT congratulates Bill and Kris for choosing to conserve River Road Ranch. "We're so excited to work with another amazing family and community members to conserve a piece of working lands, wildlife habitat, healthy waters and open space in Sheridan County for generations," Bauer said. "Conserved properties like this can be enjoyed by the community indirectly as the properties contribute to ensuring our county retains portions of the wide-open spaces that we hold so dear to our heart."
Bill and Kris encourage anyone like them who values undeveloped, agricultural open space in Sheridan County to consider conserving their land and working with SCLT to make it happen.
"If folks want to conserve the character of the Tongue River Valley, establishing conservation easements is an effective way to do it. Zoning, county planning and local politics may change land use," they asserted, and concluded, "With a proper conservation easement, this place is assured to stay in agricultural, undeveloped use as it always has been."
For their patience, Bill and Kris have been rewarded with a conservation easement and the peace of mind knowing that their place in the Tongue River Valley will remain home forever. We think William Langland would agree, that's a fair virtue.
SCLT partnered with the Natural Resources Conservation Service, Wyoming Wildlife and Natural Resource Trust, and The Nature Conservancy in Wyoming to complete the conservation easement.
Are you interested in seeing if conservation aligns with your vision for your land? If so, please contact SCLT Conservation Director Meghan Kent via email [email protected] or phone (307) 673-4702.
Want to learn more about lands SCLT has helped conserve in Sheridan County? Please visit https://sheridanclt.org/land/conserved-properties/.