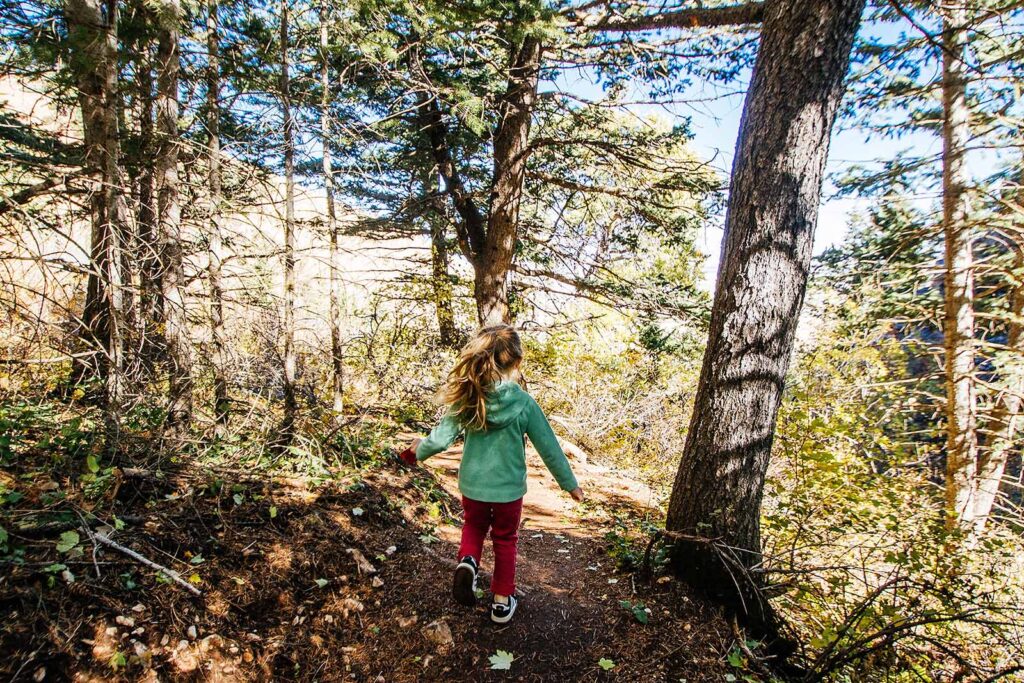 I hope you and your loved ones are well and wish for their continued health and safety as we all navigate a world where our regular routines and rhythms of life seemingly change by the day.
As I think about the role Sheridan Community Land Trust plays in our community's well-being, I keep returning to a letter we received about a year ago. It was from Sheryll Seagrave, who wrote to share with us the experience of hiking Red Grade Trails through the eyes of her ten-year-old granddaughter, Natalie. For her Language Arts class, Natalie wrote:
"It was a warm August day and my family and I were hiking up the Big Horn Mountains in Wyoming. There were flowers of all colors and trees that were at least twenty feet tall around us. An orange butterfly with black spots fluttered around us, flying from one flower to another. After walking for a little while on the sandy trail, I stopped and looked out over the mountain. I could see hills, rivers, and lakes for miles. The sky was blue with barely a cloud in the sky. Up ahead I could hear a stream babbling loudly. I ran ahead to see the stream, jumping over rocks on the way. There it was, the water so shiny that it looked almost like a mirror. The water was curving in and out of rocks, moving quickly until turning a corner and out of view. I crossed the bridge and looked up at the mountain. As I looked at the long winding trail ahead of me, I realized just how beautiful the mountain was."
Regrettably, Natalie was unable to make the trip from her family's home in Maryland to spend time with her grandparents, Sheryll and Charles, in Big Horn this summer. Still, it is heartening to know that when Natalie returns, she will get to explore even more of the Bighorns because the expanded Red Grade Trails are there for everyone. Until then, Sheryll is thankful for community trails close to home because they are a safe place to enjoy the outdoors.
While SCLT will not solve COVID-19 by any means, we recognize its impact in our community and we know that the outdoors is still there to explore – and that many of us rely on opportunities to enjoy the outdoors close to home for our well-being now more than ever. Those opportunities are available today, tomorrow and for years to come because of friends like you.

This past year, people like you helped Ronnie build The Link & Kicking Horse Trail while getting a head start on the next phase of Red Grade Trails. People like you provided Carrie a way to create the Big Goose Walking Tour. People like you gave our community the trust to let Tami make our local waterways safer and more accessible. And people like you have made it easier for two ranching families to keep their working lands working while securing the future for abundant wildlife to thrive in and around clean, clear streams running through the open space and open views we all love in Sheridan County.
Your tax-deductible gift this holiday season will create more opportunities for people in Sheridan County in 2021 and beyond. Your gift will let Ronnie and a small army working with him build Red Grade Trails faster than any of us ever dreamed. Your gift will help Carrie preserve and tell more stories of our county's special history. Your gift will assist Tami as she identifies new places for people to connect to nature and allow Alexis to help people discover new ways they can enjoy the outdoors. Your gift will help Chris and a Big Sky WaterCorps member work with local landowners on ways we can help sustain our water for all of the people, ranches, plants and animals whose lives it nourishes at the base of our beautiful Bighorns in our Wyoming wonderland.
To create even more opportunities for grandchildren, grandparents and everyone else in Sheridan County, Pam and John Standish have issued you a holiday challenge. They have committed $30,000 to match any gift you make this holiday season. They have made that generous commitment because they know that when kind people come together to help their community, everyone prospers. To ensure that your kindness is doubled, please make your gift by January 15.
None of it is possible without kind people like you who care. Thank you for all you do and have a great holiday season.