Join Donovin Sprague as we hike into history along Soldier Ridge Trail, a ridge rich with stories of our past. You'll learn about how Native Indian Tribes used the land and resources around the ridge, the historic Bozeman Trail and the conflicts that arose between Plains Tribes and emigrants heading West.
Donovin Sprague teaches history and political science at Sheridan College, including Wyoming Tribal History, American Indian History & Culture, Tribal Law, Treaties, & Government, and Plains Indian Art, among other courses. At previous universities, he taught classes in history, political science, sociology, social science, psychology, literature, and art. Sprague serves as the advisor for the Multicultural Center as well as the Native American organization on campus. In addition, he plans events each November to celebrate Native American Heritage Month.
Donovin was born and raised on the Cheyenne River Sioux Reservation in South Dakota where he is an enrolled member of the Minnicoujou Lakota. He is a university instructor, author of ten books, and a historian. Recently, he has traveled to give presentations and do consulting work, which has taken him to Culver Military Academies, Culver, Indiana; Notre Dame, South Bend, Indiana; Purdue, Lafayette, Indiana; University of Frankfurt, Germany; U.S. Army Base Wiesbaden, Germany, and Paris, France. He conducts tours and has been a frequent speaker in the Sheridan area. In addition, he has presented at major universities, museums, and cultural centers throughout the U.S., Canada, and Europe.
Please meet us at the Soldier Ridge Trailhead on Tuesday, April 13 at 2:30 pm. Our Hike into History will last approximately an hour. Walk-ups are welcome.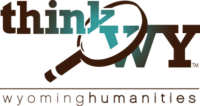 This SCLT history program is generously funded by the Wyoming Humanities Council.